Don't have enough time to go to a gym or the nearest joggers park just to have a 30 minute walk/run?
Then, you can simply invest in the Best Treadmill for home use as it will not only help you get fit but also saves a lot of time and money in the long run.
Of-course, I don't deny the fact that running outdoors is awesome and nothing can beat that. But, due to the busy & tight schedules, not many are able to spare enough time to take care of their health & fitness.
Fortunately, the treadmills can simulate the experience of jogging or running outdoors and can give you the perfect cardio workout without having to leave your home.
List of Best Treadmills under 20000 in India 2021
Unlike the Fitness centers, you don't have to spend lakhs of rupees to purchase the best treadmill in India.
There are several treadmill brands in India that manufacture affordable treadmills with decent specifications. Before going ahead, do go through the buyer's guide once. If you've joint pains, then it is recommended to opt for the stationary exercise cycle over the treadmills as they'll reduce the strain on your joints.
Treadmill Buying Guide India
Here are some basic factors you need to consider before deciding whether a treadmill is right for you or not.
1. Your Workout Requirements
Know what workout style you prefer – Walking, Jogging or Running.
Manual treadmills are better and more than enough, if you just wanted to walk daily to improve your heart health. They are ideal for simple walking and doesn't require any electricity to function, which makes them very affordable too. These are also ideal for aged people.
Motorized Treadmills are recommended if you're looking for jogging or running at home. They come with more advanced features like incline, speed limit, customizable workout programs, heart rate monitoring etc… So, they're a little expensive and require power to function. These are ideal for those who're trying to lose weight or wanted to include high intensity cardio training in their workout regime.
2. Treadmill Motor Capacity and Track Size
If you're an average individual who weighs up to 90-100 kgs, below are the recommended motors for different needs:
For Walking – 1.5 CHP or above is ideal
Jogging – 2.5 CHP or above is perfect
Running – 3.0 CHP or above is recommended
And, coming to the running surface, below are the recommend track sizes.
20" (W) x 55" (L) – Ideal for light joggers/walkers. Not suggested for people who are tall (above 6 feet).
20" (W) x 60" (L) – Ideal length for regular walking, running and jogging.
22" (W) x 60" (L) – Ideal for pro-runners, sprinters and high incline running.
3. Additional Treadmill Features
A motorized treadmill means you have more features to choose from, such as:
Auto incline or Manual Incline
Heart rate monitor
Built-in workout programs
Lubrication and
Other add-ons
Every treadmill also comes with a dashboard with LED display where you can track and monitor all your workout statistics like distance covered, calories burned, time spent and so on…Keep in mind, the Treadmill Prices in India varies from Rs.15,000 to Rs.2,00,000. (Based on the features you choose like the motor horsepower, incline type, capacity and pre-defined workouts etc)
And, in this article, we'll look at the most popular budget home treadmills you can buy in India in 2021.
Best Budget Treadmills for Home Use under 20K
1. PowerMax Fitness TDM-9x Series Treadmill
The Powermax TDM-97 and TDM 98 series treadmills are powered by a 3 HP and 3.5 HP continuous DC motor respectively with 4 HP peak and is ideal for beginner to medium level runners.
It comes with 12 preset workout programs and has speeds up to 10 km/h. There is no incline option on this machine.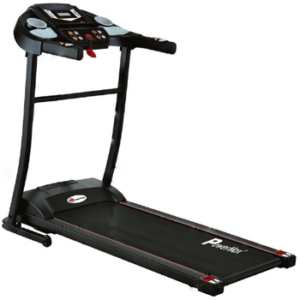 There is a 5.5 inch LED display that displays the metrics like speed, distance, calories, heart rate etc…
It has quality mp3 speakers with Aux input.
The maximum weight capacity of this treadmill is 100 kg.
There is a warranty of 3 years on motor, 1 year on parts & labor and lifetime on frame.
Features:
5.5″ LED Display
1.0 HP Continuous GREEN efficient DC Motor (2 HP peak)
Speed Range: 1.0 to 10 km/h
No Incline option
Pulse Sensor on Hand Rail
Running Surface: 43.3X15.7 Inches
12 Preset Workout Programs
Max User Capacity: 100 kg
Item Weight: 30 Kgs
Warranty: 3 Years
2. Cockatoo CTM-04-05 Motorized Treadmill
The machine is powered by a 1.5 HP DC motor (2HP peak) with speeds up to 14 kmph and 3-level manual incline option.
There is a LCD display on the dashboard that shows time, speed, distance, calories, incline level and hand pulse rate.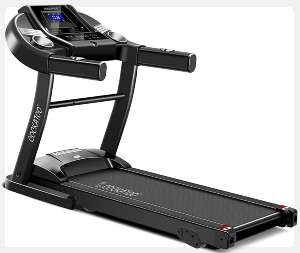 There are several preset programs for different workout levels.
You also have a AUX input & mp3 speakers to play music.
The maximum user weight it supports is 90 kgs.
You can install it on your own very easily and you'll also get free video call assistance, if needed.
Features:
1.5 H.P. (2 HP peak) DC motor
Speed Range: 0.8-14 km/hr
3 level manual incline
5″ LED Display
12 Preset Workout Programs
Running Belt Surface: 43.3″ x 15.3″
Belt Thickness: 1.4mm
MP3 speakers with AUX input
Foldable with Wheels
Max user weight of 120 kgs
Item Weight: 36 Kgs
Warranty: 3 Years on Motor, 1 Year on Parts & Lifetime on Frame
3. Durafit Spark 1.25 HP DC Motorized Treadmill
If you're looking for an extremely sturdy built quality in 20K budget, then the Durafit Spark treadmill is just for you.
This foldable treadmill is powered by 1.25 HP continuous DC motor (2.5 HP peak) with speeds up to 12 Km/h and comes with heart rate monitoring feature.
It comes with PWM digital concept control option with LCD display that shows heart rate, time, calories, distance, speed etc… along with 12 preset programs for cardio and weight loss.
The maximum weight it can carry is 95 kg.
You'll get 1 year of warranty on the motor.
Features:
1.25 Hp Continuous DC Motor with 2.5 Hp Peak
Digital Concept Pwm Control
Speed Range: 1 to 12 kmph
3-Step Manual Incline
Built-in Heart Rate Sensor
12 Preset Workout Programs
Running Surface: 54 x 25 inches
Item Weight: 32 kg
Max User Weight: 90 kg
4. Lifelong FitPro LLTM09 Motorized Treadmill
If you're looking for a best budget treadmill under 15000 price range, then the Lifelong FitPro LLTM09 is just for you.
With amazing positive customer ratings and 10 days replacement facility, this indoor treadmill is definitely worth your money.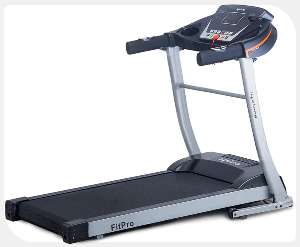 There is a 2.5HP motor that facilitates speeds up to 10 KMPH and thanks to the Comfort Cell Cushioning technology with 8 rubber pads below the running deck, you don't have to worry about damaging your joints.
There are also wheels for easy transportation of the treadmill machine from one room to another without any additional help.
Do note that you need a 1000 VA stabilizer to use this treadmill to prevent the machine from any sudden power fluctuations.
Features:
2.5 HP DC Motor
Speed Range: 1 to 10 kmph

Built-in Heart Rate Sensor

12 Preset Workout Programs
Running Surface: 1100 x 400 mm
Item Weight: 31 kg
Max User Weight: 90 kg
Warranty: 3 Years on Motor, 1 Year on Parts & Labour + Lifetime on Frame
5. MAXPRO IM5001 Motorized Folding Treadmill
Coming from WELCARE, the brand that is popular for its wide range of fitness equipment has also introduced a budget home use treadmill under 20000 price bracket without compromising on the essential features.
The treadmill comes with a 1.5HP green DC motor with 3HP Peak capacity for extensive training sessions.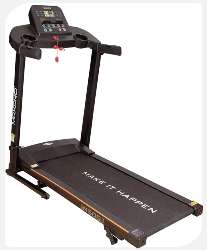 It sports 12 preset programs and facilitates speeds ranging from 0.8 to 12 KM/h.
The frame is made of heavy gauge steel which has undergone 7 bath anti-corrosion processs and is also painted with 3 layers of coating for rough & tough use.
There is also the HR sensor on the hand rails and you can also increase the height of the treadmill using the 3 Level manual incline feature.
The anti-skid running belt provides firm grip to your feet while running on the machine and avoids any accidental slippages.
The machine is also easy foldable for space saving.
Features:
1.5 HP (3HP Peak) Green DC Motor
Speed Range: 0.8 to 12 kmph

Built-in Heart Rate Thumb Sensor

s
12 Preset Workout Programs
3 Level Manual Incline
Running Surface: 1100 x 400 mm (43 x 15 inches)
Item Weight: 34 kg
Max User Weight: 90 kg
Warranty: 1 Year
6. Healthgenie 3911M Motorized Treadmill
This treadmill is powered by 1.0 HP DC motor (2.5 HP Peak) with speeds up to 10 kmph and no inclination.
There is a Red LED screen that displays distance, calories, speed, time and heart rate.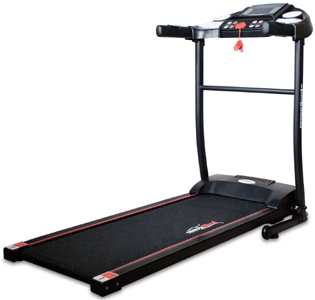 You also have quality speakers on both the sides with Aux input.
The maximum weight is supports is 100 kg.
Warranty on frame is 3 years, motor is 1 year and on other parts, it is 1 year.
Features:
Red LED Display
1.0 HP DC motor
Speed Range: 0.8 to 10 km/h
No Inclination
Good Quality Speakers with Aux Input
Comes with Transportation wheels and is foldable (saves space)
Running Surface: 43 x 15 inches
Item Weight: 36 Kgs
Max User Weight: 100 kg
Treadmill User FAQs
Which treadmill is best for home use in India under 20000?
The PowerMax Fitness TDM-9x series is the #1 treadmill choice for home runners below 20k budget segment. It comes with amazing build quality, inclination and large weight capacity.
Is it OK to buy treadmills online?
Of-course, yes! You will get the same warranty and after-sales service whether you purchase the treadmill online or offline stores. In fact, you'll get best deals when you buy from online on sites like Amazon.in and Flipkart.com using the Big Billion Days and Festive Days.
Do treadmills consume a lot of electricity?
A good treadmill consumes around 600 to 700 watts of energy and it varies from one machine to another, depending on how many times you use it and the treadmill's motor capacity.
Does treadmill help reduce belly fat?
Treadmill workouts are very beneficial in burning excess calories from your body, which also includes your belly area. But, remember that spot reduction is a myth and you can't lose fat only from a particular part of your body.
Can I plug my treadmill into a regular power outlet?
The standard power outlets that we use in our house support 120 volts, which is OK for our daily-use appliances. But, the manufacturers recommend using a surge suppressor outlet when it comes to powering the treadmills. So, ask your electrician to modify it for you. And, it can be done very easily.
Should I unplug my treadmill when it is not in use?
To answer you without any in-dept details, Yes! you should unplug your treadmill when you're not using it.
What is the lifespan of a treadmill?
A regularly well maintained treadmill could last up to 10 years on an average.
Why & when should I lubricate the treadmill?
Lubricating the treadmill helps the belt move smoothly without putting additional stress on the motor, which may result in breakdown of the machine.
You should lubricate your treadmill once every 2-3 months, depending on how frequently you use it.
That's the end of the list of best treadmills for home use in India, priced under 20000. Please choose the one that suits your budget and personal requirements.