GM Diet aka General Motors diet is a well-known low calorie diet for weight loss in 7 days.
However, most people fail to make use of the GM diet chart due to the food restrictions available for vegetarians, especially the Indian GM diet followers.
Hence we've come up with GM Diet Indian version to help you find all the food choices within the parameters of the original GM diet plan.
What is GM Diet for India?
The GM Diet is originally designed for the employees of the General Motors Corp and hence you'll find the inclusion of beef on the non-vegetarian days 5 and 6 respectively.
Since, most of the Indians do not like to eat beef, and many others are pure vegetarians, slight changes have been made to the original version to suit the Indian lifestyle.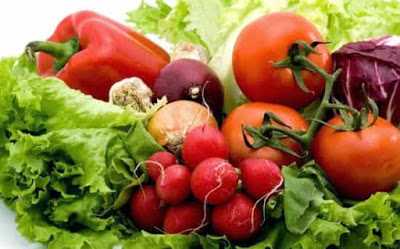 Is the Indian GM Diet effective like the original?
Of-course, yes. The GM diet in India does not vary too much from the westernized or the original version except for the consumption of beef on Day 5 and Day 6 of the diet.
So, we've made just a few changes to the actual GM diet to suit the Indians who are either beef haters (non-vegetarians) or vegetarian.
Detailed day-wise and meal-wise diet plan can be found in their respective pages.
Original GM Diet – Day 1, Day 2, Day 3, Day 4, Day 5, Day 6 and Day 7.
GM Diet Plan for Vegetarian Indians
The vegetarian GM diet plan is aimed at providing the best substitutes for meat without compromising on the effectiveness of the 7 days diet program.
In the original version, it is only on the fifth and sixth days that you'll find the non-veg food items.
So, replacing those foods with their vegetarian alternatives would form the vegetarian version.
Day 1: Eat all varieties of fruits except bananas. You should also aim to drink at least 8-10 glasses of water per day.
Day 2: Eat all varieties of vegetables including potatoes. You can have the GM diet wonder soup for lunch and dinner.
Day 3: Combination of fruits and Vegetables. No Potatoes or Bananas on this day. Minimum 10-12 glasses of water.
Day 4: Bananas and Milk. You can have skim milk and bananas for breakfast and midday snacks period while the wonder soup can be had for lunch and dinner.
Day 5: Brown rice, Tomatoes and curd. You can substitute beef with either soybean curd or a cup of brown rice or even a cup of Indian cheese (paneer). For meals, you should include tomatoes with cucumbers.
Day 6: Brown rice or paneer or soybean curd and lots of vegetables. NO potatoes or tomatoes on this day.
Day 7: Brown rice, fruit juices (no banana) and vegetables (no potato). You can have 2 cups of brown rice with vegetables and fruits. Apart from 8 to 10 glasses of water, you can also have some fruit juices for breakfast and mid-morning snack. Avoid adding sugar or honey in the juices. Have them in natural form for better weight loss results.
If you follow this 1 week vegetarian GM diet plan without fail, you'll lose up to 2-3 kgs by the end of Day 3 and 5-7 kgs by the end of Day 7 for sure.
Not only the weight, your overall health and digestive system will also be improved by following this awesome 7 day vegetarian diet plan.
GM Diet Plan for Non-Vegetarians India
The GM diet non-veg version for Indians include beef alternatives like chicken, fish, meat and eggs.
Here is what you can eat on the Indian non-veg GM diet plan.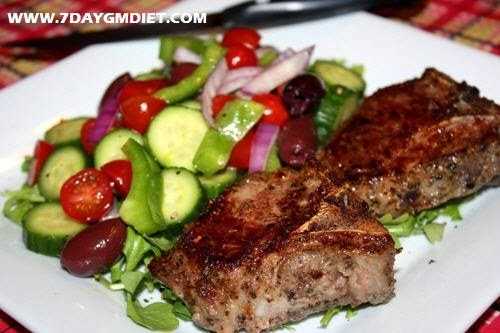 Day 1: Eat fruits to your heart's content. There is no limitation on the amount of fruit you eat on this day, but do remember that you should not eat Bananas on the first day.
Suggested Fruits (our choice): Watermelon, Papaya, Apple, Oranges, Limes and Grapes. You can also include other fruits like Kiwi, Plum etc…
Day 2: Have 1 large boiled Potato for breakfast. For the rest of the day, you should eat only vegetables either raw or boiled form. Don't eat Potato in the remaining day.
Suggestion: If you're not able to eat raw vegetables, try to prepare the GM Diet cabbage soup or Tomato soup and have it during the Lunch and Dinner.
Day 3: Today, you can have both Fruits (except the Banana) and Vegetables (except Potato).
Suggestion: You can include fruits for breakfast, morning snack and afternoon snack. Drink the wonder soup during Lunch and Dinner.
Day 4: Today is a surprise! You can have Bananas and Milk on this day.
Suggestion: Prepare a milkshake with 2 bananas and 250ml of milk and drink it during the breakfast, mid-morning snack and evening snack period. So, on a total you should have 6 bananas and 750 ml of milk (Slim milk). For lunch and dinner, try to have the cabbage soup.
Day 5: Here comes the Non-vegetarian menu in the GM diet 7 day plan. You should eat at least 500gms of chicken/meat and 6 tomatoes today. Water intake should be increased on this day.
Suggestion: You can either prepare chicken soup with tomatoes in it or roast the pieces with 1 or 2 tsp of virgin olive oil in a pan/oven. All 3 meals (breakfast, lunch and dinner) should contain chicken (500gm/3 times). During the morning and evening snack time, you need to drink water (at least 8 to 10 glasses for the day). No others foods should be eaten today.
Tip: If you're not fond of eating chicken, you can replace the 500gm chicken/meat/fish with 6 eggs divided into 3 meals + 6 tomatoes.
Day 6: On the sixth day of the General Motors diet plan, you should eat Chicken + all vegetables (except Tomatoes). For breakfast, lunch and dinner, you can eat chicken/eggs/meat/fish (like day 5) and wonder soup (with all vegetables except tomatoes) during the mid-morning and evening snack time.
Day 7: Today will be a feast day. You are allowed to eat brown rice, vegetables and drink fruit juices.
Suggestion: For breakfast, you should eat 1 bowl of brown rice cooked with different vegetables like cabbage, broccoli, etc…
In the morning snack time, you should drink 1 glass of fruit juice (Orange or Strawberries, Pineapple).
During the lunch, you need to eat 1 bowl of brown rice with vegetables followed up with a slice of watermelon or mango. During the evening snack time, you'll need to drink 1 glass of fruit juice (no banana). For dinner, you will have to eat brown rice with greens.
If you've successfully completed this seven day cleansing diet without cheating, then you'll surely feel much lighter when you wake up the next day.
I personally have lost 6 kilos in my first week. So, the only thing you should note is 'don't cheat on your diet'.
Follow these Tips for Best Weight Loss Results
Below are some basic, but important tips you should follow everyday during the GM diet plan for weight loss in India.
Stay away from Alcohol and Caffeine while on the GM diet.
Have heavy breakfast, moderate lunch and a light dinner.
Instead of overeating in just 1 meal, spread it to multiple small meals in a day.
Drink enough water every day. Aim for at least 3 to 4 liters per day. It will help in flushing out the impurities from your body and see that your body does not hold any water weight aka fluid retention.
Drink wonder soup whenever you're hungry, rather than munching on unhealthy snacks.
You can drink black coffee or green tea as many times as you want. But, make sure you're not adding sugar, cream or honey in it.
You can practice this diet program as many times as you want, but it is highly advised to take a minimum of 3 to 5 day break before you start another week of the diet.
Fruit juices are not allowed except on the suggested days of the program.
Pregnant women and those who're breastfeeding their newborns should stay away from the diet.
People with thyroid problems or diabetes should stay away from the diet.
Don't do heavy weight workouts during the initial 3 days of the diet. Since, you're following a low-calorie diet, you won't be having enough strength/stamina to do heavy workouts. Instead, perform simple Yoga poses while on the GM Diet program.
Strength training workouts can be included from the 4th day onwards. You can also run on a treadmill or use an indoor exercise cycle to burn additional calories at home.
If you've any doubts or queries related to GM diet Indian version, please don't hesitate to comment below.