Congratulations! You've made it to GM diet day 7, which is the last day of the diet program.
If you've reached this far without cheating, then you would have noticed a significant weight loss for sure.
And, in addition to that, you will also look and feel great both inside and outside.
When you entered the General Motors Diet Day 7, you should see the following changes in your body as well as lifestyle.
You're slimmer by at least 10 to 12 pounds or 4 to 6 kgs.
Your sleep has improved a lot (more tired at night and fresh when you wake up)
Your digestion has improved.
You notice a glowing skin.
Finally, you become much more active than before.
If you notice these changes, then I'm sure you've done the GM diet perfectly without cheating.
Now, it is time for you to finish your final day of General Motors diet, where you can have lots of juices.
How to Prepare for Day 7 GM Diet?
All you need to do on this day is to stack your refrigerator with fresh fruits and vegetables of your choice.
You can eat fruits at any time of the day starting with breakfast to snacks and dinner without any limitations.
Apart from fruits you should also have brown rice in combination with boiled or stewed vegetables.
A few people may not like the brown rice but it is advised not to skip it because it gives you energy as well as fiber.
If required, you can also have Cottage cheese (Indian paneer) as a replacement to brown rice.
GM Diet Day 7 (Sample Meal Plan)
| | |
| --- | --- |
| Time | Meal |
| 8.30 am (Breakfast) | Brown rice pulao with veggies |
| 11 am (Morning Snacks) | Any fruit juice |
| 1 pm (Lunch) | Brown rice pulao with sprouts/paneer |
| 4 pm (Afternoon Snacks) | Coconut water or sugarcane juice |
| 6.30 pm (Dinner) | Vegetable soup |
| 8 pm (Late Night Snacks) | Any fruit juice |
Breakfast: Start with a bowl of brown rice for your breakfast. Brown rice gives you energy and carbohydrates for the whole day. However, you can skip the rice for breakfast and eat either papaya or melon followed by 2 glasses of water.
Lunch: If you skip the brown rice during the breakfast, then try to have it now along with cooked vegetables such as broccoli, cabbage and asparagus. You can then have a slice of mango or melon to satisfy your appetite.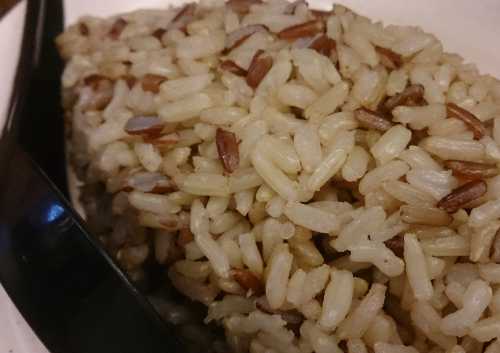 In case if you had brown rice for breakfast, then replace lunch with any two different fruits + 2 glasses of water.
Dinner: Again with brown rice + green vegetables or only vegetables of your choice. Note that you should drink 2 glasses of water before going to sleep.
Snacks & Beverages: You can have raisins, strawberries, other fruits during snack time. Coming to beverages, you can drink water or fruit juice (only during midday snacks).
GM Diet Day 7 Foods List
Wondering what to eat on the 7th day of GM diet plan? Read below to get the basic idea.
Foods Allowed – Brown Rice, Cottage cheese (Paneer), Sprouts, All fruits (except bananas), all veggies (except potatoes, sweet potatoes, peas, corn).
Foods Not Allowed – Everything else and absolutely no non-veg items.
Beverages Allowed – Just water and fruit juices.
Points to remember
Drink more water on Day 7 compared to previous days.
Exercise more today so that it helps in boosting your metabolism even more, thus it burns a lot of calories than normal. Doing so will also help you not gain weight immediately in the following days while you're not on the diet.
Don't consume foods with heavy fibers post the afternoon meal.
Restrict the usage of oil or butter to just 1 teaspoon per day.
Drink at least 4 to 5 liters of water.
That's it! Hope you get the same results like hundreds of other followers of the General Motors diet like me.
GM Diet Day 7 FAQs
1.How many kgs can we lose in GM diet?
If followed without cheating, one can easily lose between 5 to 7 kgs on the General Motors diet in just 1 week. The more you weigh, the more you'll lose initially.
2.What is the best substitute for brown rice on Day 7 of GM diet?
You can replace Brown Rice with Paneer (Indian cheese) or Oats.
3.Can I have banana juice or milkshake on day 7?
Sorry! Bananas are not allowed on the last day of the GM diet as they make you gain weight if you have them more often with regular meals.
4.Can i drink coconut water or sugarcane juice on 7th day of the diet?
Of-course, yes. You can have either coconut water or sugarcane juice for snacks in place of the fruit juices.
5.Will I put on weight again after completing the GM diet?
GM diet is meant for people who're looking to shed their excess weight without waiting for long periods like in other diets.

And like in any other diet, you'll regain weight if you try to eat in indifferent proportions without following a proper lifestyle.

So, it is advisable to maintain your diet once you reach your ideal weight.
6.Can I repeat the GM diet again?
Yes, you can repeat the GM diet as many times as you want or until you hit your weight loss target. But, you should maintain at least a week gap in between the sessions.
Hope, you got all your questions answered here. In case if you face any difficulties or need any help on foods, please do comment below and we'll try to answer them.
Once you've completed the 7 days GM diet program, here is what you should eat after the GM diet in order to maintain the lost weight or lose weight further. Have a healthy life.