Wow! You're on the GM diet day 4, which means you've already completed half way of your weight loss journey.
On this day, you'll be surprised to know that you can actually eat your favorite bananas.
Yes! It is only the bananas and milk that is allowed on this 4th day of the General Motors diet.
From the Day 1, Day 2 and Day 3 regimes, your body has been cleansed and adjusted itself to the General Motors diet routine. Your body has got all the sugars and fibers it needed from fruits and vegetables.
Most people will lose almost 5 to 7 pounds of weight by this day, thanks to the cleansing process that happened due to the fruit and vegetable consumption.
By adding bananas and milk to your diet regimen, you'll be getting the Potassium and Sodium which you missed during the first three days.
On 4th day of the GM diet menu, you'll be getting your energy from milkshakes and vegetable soup.
How to Prepare Your Body for Day 4 GM Diet?
It is very easy to prepare your body for the day 4.
Like you're already doing, try to eat fulsome dinner on day 3 so that you can start your fourth day with lots of energy.
Since your body has a sustained appetite, it no longer responds to the taste of Bananas and so you can easily survive on liquids.
As you have enough energy for the day, you can see a lot of changes in your activities and you'll feel a livelier attitude towards life.
GM Diet Day 4 (Sample Meal Plan)
| | |
| --- | --- |
| Time | Meal |
| 8.30 am (Breakfast) | 1 large banana with 1 glass of warm milk (250 ml) |
| 11 am (Morning Snacks) | Banana milkshake (250 ml milk + 2 bananas) |
| 1 pm (Lunch) | 1 large bowl of cabbage soup |
| 4 pm (Afternoon Snacks) | Banana milkshake (250 ml milk + 2 bananas) |
| 6.30 pm (Dinner) | A small bowl of wonder soup |
| 8 pm (Late Night Snacks) | 1 banana |
Breakfast: You can start your day with a banana supplemented with a glass of milk (warm). Note that you can also use Skim milk instead of fat milk throughout this day for better results.
Lunch: Try to have vegetable soups such as tomato soup and cabbage stew. These soups would savor your taste buds for sure.
Dinner: You can have a vegetable soup along with a milkshake. If you feel vegetable soup itself is enough to fill your stomach, you may skip the shake.
Snacks: Nothing except bananas and milk shakes.
GM Diet Day 4 Foods List
Wondering what to eat on day 4 of GM diet plan? Well, you can have as much as up to 6 large bananas or 8 small bananas and 750 ml of skimmed milk for the whole day.
Foods Allowed – Just Bananas and Milk (skimmed if possible)
Foods not allowed – Everything except these two.
Beverages Allowed – Plain water, wonder soup and milkshakes (without honey/sugar)
Points to Remember
Whenever you're having the food cravings (hungry), try to eat a banana or have a glass of banana shake in between the meals like said in the sample diet.
No more than 4 large or 6 small bananas are allowed per day.
You can also drink almond milk or soy milk as an alternative to milk, but make sure you limit your intake as they contain more calories than the regular milk.
GM Diet Day 4 Vegetarian Recipes
1. Cabbage Soup Recipe
Ingredients:
Shredded Cabbage: 1 Cup
Sliced Celery: 1 Cup
1 Onion
Sliced Green Peppers: 2
Preparing Cabbage Soup:
Boil together all the ingredients such as cabbage, onion, peppers and celery in water along with some salt, pepper and herbs to add some flavor (0% fat). You can also add a few other vegetables except beans as they could add up extra calories. Stir the mixture and serve hot.
2. Banana Milkshake Recipe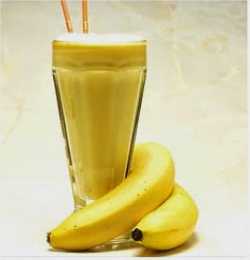 Instead of eating bananas and drinking milk separately, you can blend them together to get the delicious milkshake.
Ingredients: (1 serving)
Milk: 250ml
Banana: 1 large or 2 small size (cut into small pieces for easy blending)
Ice cubes: 4 (optional)
Sugar or Sweetener: Should be avoided at any cost
Preparation:
First, pour all the ingredients into the blender jar.
Mix in a blender for some time until all the banana pieces blended nicely.
Pour the juice in a glass and serve chilled.
Note: You can eat up to 8 small sized or 6 large sized Bananas on day 4 along with 750 ml of skim milk (250 ml per serving). So, plan your meals accordingly.
Almond Milk vs Skim Milk for Weight Loss
The almond milk is lower in calories and so most people include it in their calorie-controlled diet plans. So, the main confusion arises at this point. Which is best for weight loss – Skimmed milk or Almond milk?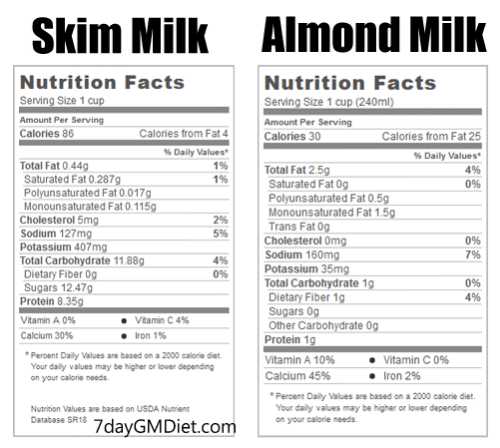 In this article, let us find out the pros and cons of both the milk types and decide which milk is best for losing weight.
Here, I'd first like to remind you about the main logic behind weight loss. You need to burn more calories than you consume in a day. This is irrespective of the foods you eat. Now, let us discuss our actual topic
Almond Milk Weight Loss Benefits
As we discussed earlier, the almond milk is very low in calories compared to skim milk.
So, it is no surprise why most people consider almond milk while dieting.
A cup of almond milk (without sugar) contains just 39 calories, while the same cup of skim milk has around 91 calories.
So, by just switching to unsweetened almond milk instead of skimmed milk will save about 19,000 calories in a span of 1 year (considering you drink a glass of milk on a daily basis).
That means you're literally losing 5.5 pounds (or 2.5 kgs) in a year without doing anything extra other than switching to a low calorie drink. Isn't it cool?
Do note here that this logic applies only if you drink almond milk without adding sugar. As the sweetened almond milk has around 91 calories in a cup, which is almost similar to the skimmed milk.
So, if you want to lose weight, only consider the unsweetened version.
Skim Milk Weight Loss Benefits
When it comes to protein, skim milk has about 9 grams of protein, which is pretty high when compared to 2 grams in a cup of almond milk.
Here, the actual logic begins.
Since, the protein gets digested slowly, our body has to burn more calories digesting the milk than almond milk. This is where the skim milk surpasses the weight loss benefits of almond milk.
By the end, both the skim milk and almond milk does have distinct advantages.
While the almond milk is low in calories, the skimmed milk has more calorie-burning properties (
more protein
= more calorie burn)
So, don't just go by the calorie count as you'll also need to consider the nutritional benefits of the foods that help you lose weight without affecting your health in a bad way.
GM Diet Day 4 FAQs
1.What is the best substitute for banana on the GM diet day 4?
Unfortunately, there is no better alternative to bananas on the GM diet plan. If you insist, then the closest choice would be Kiwis. But, have 2 kiwis in place of 1 medium-sized banana to match the nutrition values.
2.What is the best substitute for milk on the 4th day of GM diet?
The best milk substitute on the GM diet is the Almond milk. Have it in the same quantities as the regular milk i.e., 750 ml for the whole day. You can also have Soy milk if you're lactose intolerant.
3.Do bananas put weight on you?
Of course, yes. If you eat a lot of bananas along with your regular meals, then you'll definitely put on weight.

But, in the GM diet 4th day, you'll only be consuming bananas along with skimmed milk.

So, your daily calorie consumption is in limits, thereby making you lose weight naturally.
4.Can you eat wonder soup everyday on GM diet?
Yes, you can have it on all days of the 7 day gm diet program without worrying about the limitations.
5.Almond milk vs regular milk? Which is best for weight loss?
Both the milk types are good for health, but when you're trying to lose weight, then skim milk is the better option.

Here is the thumb rule – Skim Milk for Weight Loss & Almond Milk for Maintaining Lost Weight. Replace it only if you're allergic to regular milk.
Conclusion:
Hope you got all the necessary settings to complete your Day 4 of GM Diet successfully. Now, let's move on to GM Diet Day 5, where you can have the real feast.